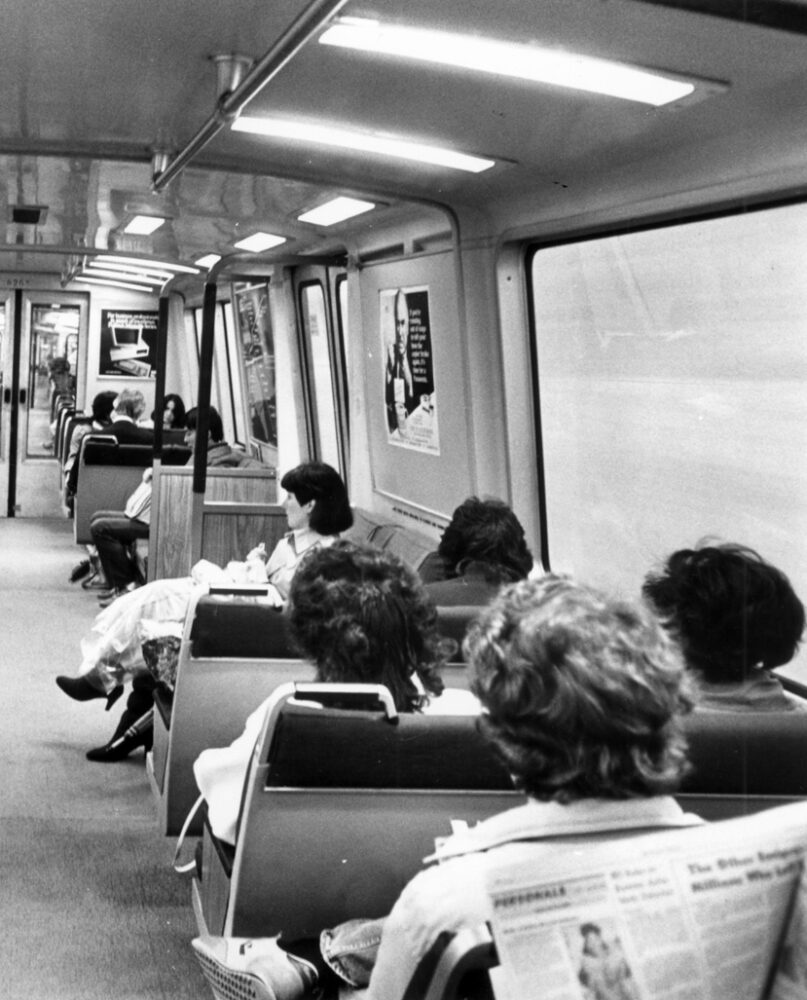 The Courthouse Docket continues on Saturday, January 21 at 1 p.m. Michael Healy and John King will discuss BART, Yesterday, Today and Tomorrow.
This past September 11, BART marked 50 years of service to the people of the Bay Area. Since first opening the doors, September 11, 1972, the system's trains have carried around four billion passengers about 50 billion passenger miles. BART's environmental benefits have been numerous. In addition to serving as a planning tool for low impact growth (cluster development), the system makes enormous contributes to clean air. For example, on an annual basis, 20 commuters taking an average trip length of 14 miles, five days a week instead of driving, saves 6,000 gallons of gas and 119740 pounds of C02- carbon emissions.
The presentation will accompany a slide show and cover the extraordinary history of the San Francisco Bay Area Rapid Transit System known world-wide simply as BART. The talk will take you on a journey which actually began well over a 100 years ago. It will touch on the building of the New York City Subway System in the late 1800s by William Barclay Parsons, whose name is also associated with the building of the BART system 68 years later. Even before construction began on the New York City system, a secret subway was built right under the noses of its political opposition by Tammany Hall's Boss Tweed. The presentation will leap forward to the post World War II years and the quirky genesis of the regional rapid transit system we know today as BART, and how it almost never happened. It was, and is, indeed a dramatic story of struggle, perseverance, and grit. BART was the first all new rail transit system to be built in the United States in 60 years.
When first constructed BART was a 75-mile project that had come to fruition in three counties, Alameda, Contra Costa and San Francisco. It had 33 stations. Today BART has 50 stations and stretches a little over 133 miles across five counties that now included San Mateo and Santa Clara. In addition to being a people mover, BART has been, and continues to be a catalyst for billions of dollars in housing, office, and commercial development, close to stations and along its corridors and outlying areas with access to its stations. This was in fact the vision of BART's early planners.
There's more expansion on the drawing board to meet demands in the years ahead. Currently that includes extending from BART's Berryessa Station in North San Jose to under the city's downtown, about an 8.5 miles stretch. Additionally, a second transbay tube is in the offing as planners look at long-term growth.
Michael C. Healy was head of BART's Media, Public Affairs, and Marketing Department for most of his 32 years at the transit system. In that capacity, he also served as its chief spokesperson. Prior to joining BART, Healy was Managing Editor of the Marin Guide Newspapers, published semiweekly with 46,000 circulation covering southern Marin County. In 2016, his book, BART The Dramatic History of the Bay Area Rapid Transit System was published and is sold world-wide. It has also been adopted by several major U.S. universities as a reference book for urban planning and transportation studies. John King is the the San Francisco Chronicle's urban design critic, taking stock of everything from Salesforce Tower to sea level rise and how the pandemic is redefining public space. A two-time Pulitzer Prize finalist and author of two books on San Francisco architecture, King joined the Chronicle in 1992 and covered City Hall before creating his current post. He is an honorary member of the American Society of Landscape Architects.
Previously on the Courthouse Docket
In 2022, College of San Mateo (CSM) celebrates its centennial. The College Readiness Program is an important part of CSM's history. During the Courthouse Docket, moderator Leila Tamale and panelists Edgar Mojica Villegas, Rudy Ramirez and Jackie Santizo discuss Striking for Change: The College Readiness Program and Its Legacies.
If you have questions about previous Courthouse Dockets, please email education@historysmc.org.
Saturday, March 18, 2023 at 1:00pm: The Museum Auxiliary presents Fashions of the 1950s