Fort Point Garrison Brass Band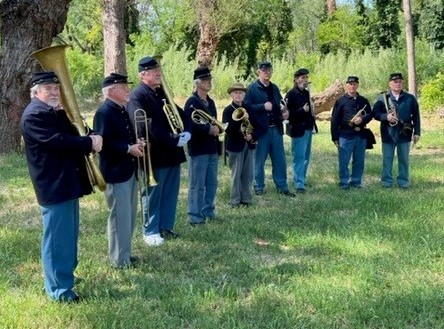 On Saturday, July 30 at 1 p.m., the Courthouse Docket continues with the Fort Point Garrison Brass Band.
The Fort Point Garrison Brass Band was formed in 2005. Part of the Band's mission is to portray an authentic 19th Century American Brass Band and educate audiences on the history of bands, instruments, musicians, and their daily lives during this era. To this end the Band has performed for school programs, Civil War dances and balls, and at Civil War reenactments.
Music provided by bands during the Civil War did much to help the cause. The bands performed concerts, played for troops on the march, provided music for balls and dances, and had an important role in military ceremonies. During battles, the bandsmen often assisted the surgeons in the field hospitals and as stretcher bearers on the battlefield.
The FPGBB performs on period brass horns, all of which are over 100 years old. The Band has performed at Fort Point, Angel Island, Alcatraz, Columbia, Virginia City, and Gettysburg. The Band has performed as a Union Band, a Confederate Band, and as a civilian town band.
The Band's Courthouse Docket program will reflect a collection of period national airs, ballads, and quicksteps.
Image: Fort Point Garrison Brass Band, courtesy of FPGBB.
Previously on the Courthouse Docket
In April 2022, the Courthouse Docket featured a panel presentation in honor of Sequoia Healthcare District's 75th anniversary. Panelists were Art Faro, the previous CEO of Sequoia Hospital and current Sequoia Healthcare District Board Member; Bill Graham, current CEO of Sequoia Hospital; and Pamela Kurtzman, current CEO of Sequoia Healthcare District.
Note: Due to technical difficulties, this recording is missing a few minutes of Pamela Kurtzman's remarks.
If you have questions about previous Courthouse Dockets, please email education@historysmc.org.
Sunday, August 21, 2022 at 1:30pm: In-person, Victorian Era Fashion Show.