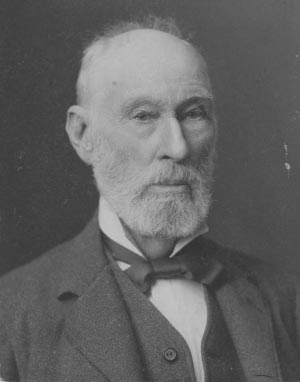 On January 22 at 1 p.m., the Courthouse Docket continues as Stanford archaeologists present the webinar Following the Money: Using the Woodside Store Records to Reconstruct Land Use and Family Life at Searsville. Carol Porter, Suzanne Ubick and Laura Jones will share how they used the Woodside Store records in historical and archaeological research regarding the vanished town of Searsville.
Left: Dr. Robert Tripp operated the Woodside Store 1854-1909.
John Sears arrived in the area in 1854. The lumbermen's village included a school, store, hotel and blacksmith shop. When the Searsville Dam was built in 1892, it created a lake that covered a portion of the former town of Searsville.
Also in 1854, Matthias Parkhurst and Robert Tripp built the still standing Woodside Store to serve the loggers in the area. The San Mateo County Historical Association operates the Woodside Store Historic Site. The store's records are in the Association's Archives.
Previously on the Courthouse Docket
Historic Preservation is Not About the Past. Katherine Malone-France, Chief Preservation Officer at the National Trust for Historic Preservation, discusses ways in which preserving historic places strengthens communities today and advances a more just and equitable future.
If you have questions about previous Courthouse Dockets, please email education@historysmc.org.
Saturday, January 22, 2022: Webinar, Following the Money. Registration required.
Saturday, February 19, 2022: In-person, Japanese American internment at Tanforan during World War II.