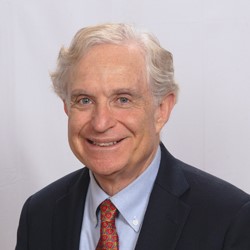 On Saturday, May 20 at 1 p.m., the Courthouse Docket continues as author Gene Slater discusses his book Freedom to Discriminate: How Realtors Conspired to Segregate Housing and Divide America.
Drawing on confidential documents from leaders of the real estate industry, Slater reveals how realtors systematically created and justified residential segregation. "Freedom to Discriminate" traces the increasingly aggressive ways realtors justified their practices, and how America's divides and current debates are rooted in the history of segregated neighborhoods. The book shows the deep connections between two defining features of modern America — segregated neighborhoods and the modern conservative vision of freedom — and how they were both largely invented by realtors in California.
Gene Slater has served as senior advisor on housing for federal, state and local agencies for over 40 years He cofounded and chairs CSG Advisors, which has been one of the nation's leading advisors on affordable housing for decades. He has worked on housing and major development efforts in more than 30 states, including serving as San Francisco's advisor on the re-use of the Ferry Building and Mission Bay. His projects have received numerous national awards, and in the aftermath of the 2009 financial crisis, he helped design the program by which the U.S. Treasury financed homes for 110,000 first-time buyers.  He received degrees from Columbia, MIT and Stanford, a traveling fellowship to the London School of Economics, and a mid-career Loeb Fellowship in Environmental Design from Harvard awarded to 10 architects and planners globally each year.
Previously on the Courthouse Docket
On March 18, 2023, the Courthouse Docket went Back to the 1950s during a presentation by the Museum Auxiliary. Using rarely seen clothing from the Millie Collection, the program included a fashion show and stories of the Peninsula during that era. The Millie Collection is an education collection intended for use in fashion shows and reenactments. The outfits are not part of the permanent collection.
If you have questions about previous Courthouse Dockets, please email education@historysmc.org.
Saturday, May 20, 2023 at 1:00pm: Gene Slater will present Freedom to Discriminate